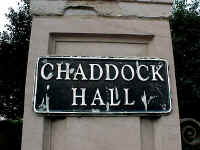 Chaddock Hall
---
On Saturday, October 3, 1998, three fortunate Chaddock Genealogy "regulars," accompanied by two local historians, were extended the opportunity of touring Chaddock Hall, a private residence west of Manchester, England. After an informative tour of the area in regards to the coal mining operations during the Industrial Revolution, we proceeded for a noon meeting with the current owners Chaddock Hall.

If you have not had the chance to read Tony Smith's Boothstown website at http://www.boothstown.com/ covering the history of Chaddock Hall, please do so at your first opportunity. I make no attempt here to duplicate his thorough article. It is my hope that these photographs and captions will stimulate an interest in the history and further illustrate this beautiful building.

Please respect the privacy of the current owners. We request that none of these photographs are used commercially without permission of those who are either in the photos, or whose property is represented.

Note:
A larger copy of each photograph on this page can be accessed online by clicking over each one individually with your mouse. Note the difference between floor numbering in the United States and the UK.
Intro | Page 1 | Page 2 | Page 3 | Page 4 | Page 5 | Page 6 | Page 7 | Page 8 | Home
---