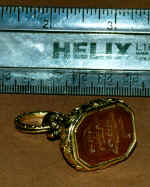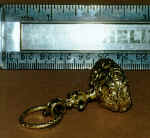 ---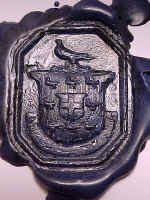 Impression by Rob. Photo by Craig.

In 1946, Captain Geoffrey Hillyar-Russ purchased an intriguing ornamental seal from a London junk shop. He had just recently returned to finish his doctoral course at university after a six year interruption caused by war service with the British Army (during the course of which he had met and married a New Zealand Army Nurse). Desperately short of cash, and with his young son Peter to feed, it is likely that his wife gave him a bit of aggravation for this procurement, which set the family finances back 10 shillings.1
In 1993, sometime after Geoffrey had passed away, Peter investigated the Coat of Arms represented on the seal at the College of Heralds in London. Informally they said the arms appeared to be those of the family Chaddock, of Chaddock of Lancashire. Initially Peter was unable to find this location by map. It was not until April of 1998 that he discovered there was a Chaddock Lane in Astley, near Tyldesley, and in May of 1998 located further helpful information on Tony Smith's Boothstown Website after an Internet search of "Chaddock + Lancashire."
Although the item was a valuable memento to his father, Peter, along with his sister Antonia, felt the seal should once again be a part of Chaddock family history. As soon as he was made aware of Chaddock Genealogy's Website, Peter offered to supply us with these photographs and to have the photographs examined at Christies for any additional information they could offer. In November of 1998, the seal was presented to a Chaddock family in the UK.2
The seal, believed to be 18th century in origin, is gold plated, with the Coat of Arms engraved in reverse on a stone of agate. One could speculate from the requirements of the day, that it was likely the possession of a clergyman. This might suggest that it belonged to Grace Chaddock, the last "Chaddock" occupant of Chaddock Hall, whose father Thomas Chaddock (d. 1723) was the Vicar of Eccles.3

The seal, in hand. All photographs, unless otherwise noted, by Stephen Boddice.

Notes:
1. At this time 12 pence made 1 shilling, 20 shillings made 1 pound, US servicemen paid four dollars for a UK pound at the time, so the largest UK coin - a "Half crown" worth Two shillings and six pence - was, throughout Peter's childhood known as "Half a dollar" (or, on the London streets, "Arf-a-dolla"). In early 1971 the UK moved to a new simplified system in which the Pound was unchanged in value, but was divided into 100 New Pence.
2. Based loosely on an annualized return of 10% for 52 years on his $2.00 investment, a donation was made to Episcopal Community Services in San Diego in honor of Captain Geoffrey Hillyar-Russ.
3. Smith, Tony. 1997. Chaddock Hall, Boothstown; A Brief History.